As an extreme mountain in Michigan's Upper Peninsula, Mount Bohemia is known for it's challenging trails and huge vertical drop. This mountain is not at all suited for beginners or those who consider themselves intermediate, as the terrain is un-groomed, wild, and difficult. This is a mountain for those looking to challenge themselves and have an adventure while doing it.It's even self described as a place for 'extreme skiing'. Mount Bohemia is definitely not for the faint of heart, but those who take on the mountain tend to love it.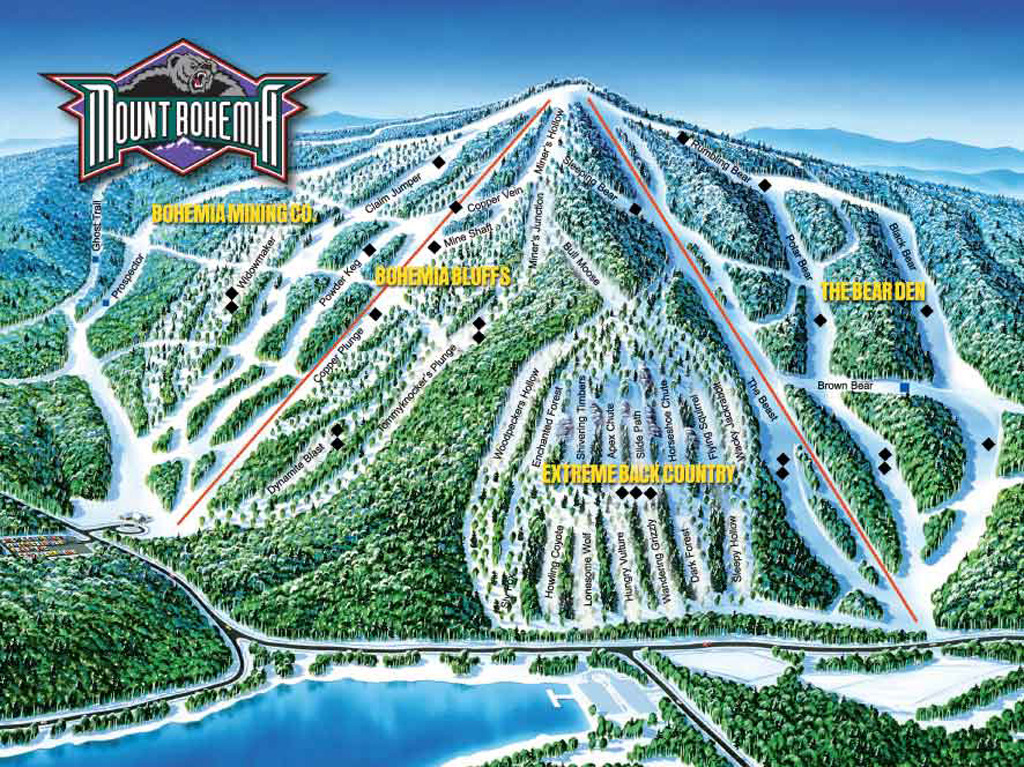 Mount Bohemia is nothing to take lightly. The mountain has a huge 102 runs, with only 1% of those trails being for beginners. There's no trails for intermediate users, and 88% of the runs fall into the 'advanced' category, with the remaining 11% falling into the expert double black-diamond runs. Snowboarders have 585 acres of skiable terrain, and the vertical drop of the mountain is a huge 900 feet. The longest run comes in at 2 miles long. Mount Bohemia is definitely something to be taken on only by those who have a lot of experience already and consider themselves to be advanced, but it promises nothing but fun in its runs.
Mount Bohemia only has two lifts and no rope tows. The two lifts are 1 triple chair and 1 double chair, both of which take a person all the way up the mountain, as that's where all the trails begin. There's also a terrain park at the mountain, but the focus is more on the trails. At the bottom of the mountain, there's a base with a bar and restaurant for snowboarders and their families in their downtime.
The staff does not offer lessons at the mountain, due to there not being many beginner trails and the mountain being for those who are advanced snowboarders and skiiers.
Mount Bohemia is a resort, so there's lodging on-site and plenty for families to do. The most typical site of lodging is in personal cabins. Lodging can be booked on their site. Tickets for the lifts are $62 and season passes are offered at good deals. The lifts are typically open 10:30 AM to 4:30 PM and later on some weekend nights.